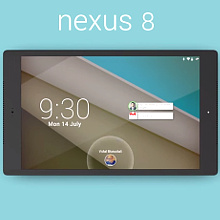 If a new leak is to be believed, the upcoming Nexus 8 tablet will have awesome specs to go along with the latest Android operating system.
It has been long rumored that HTC's "Volantis"/"T1"/"Flounder" tablet is really the next Google Nexus device, and we now have alleged specs for the Volantis.
The device will have a 2560 x 1600 resolution 8.9-inch display, right in between the Nexus 7's 7-inch display and the Nexus 10's 10.1-inch display and more in line with newer high-end form factors.
Under the hood, the tablet will be powered by a 64-bit Nvidia Tegra K1 processor (which kills the competition, see our review
here
) and 4GB RAM. Additionally, it has an aluminum body, premium compared to the rubber and plastic of its other iterations. Volantis will launch with Android 5.0 "L"
The device's cameras will also get an upgrade, up to 1.6MP/8MP.
Pricing and availability has not been confirmed but expect $399 and a launch in October.
HTC T1(a.k.a Flounder/Volantis) 64Bit Tegra processor, MDM9x25 modem(for cellular model), 4GB RAM(Elpida 2GB*2), NFC, GPS, Android L

-- UpLeaks (@upleaks) August 8, 2014