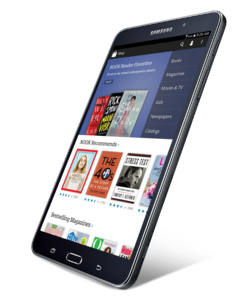 Samsung and Barnes & Noble have sent out a press invite for an event on August 20th in which the two companies will officially launch their co-branded Galaxy Tab 4 Nook.
The companies are holding the event at B&N's flagship Union Square retail store in NYC.
Back in June, the companies revealed they were developing the GT4Nook, with an August launch date. The company's own Nook tablets were sales failures, and last year B&N announced it was partnering with bigger OEMs to build any future Nook-based products.
There are likely to be more announcements at the event, which only generally promised "to bring together the best of both worlds."
Samsung's Galaxy Tab 4 has a 7-inch 720p display, 1.5GB RAM, a 1.2GHz quad-core processor and dual cameras.