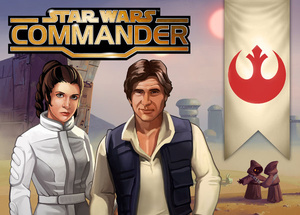 Disney Interactive has announced this week the launch of a new mobile game, "Star Wars: Commander," a freemium game for iOS.
The game is the first from Disney after the giant acquired Lucasfilm for over $4 billion in late 2012.
Reads the description:
In the game, fans will join either the Rebel Alliance or the Galactic Empire to recruit and lead an unstoppable force across the Star Wars galaxy in epic battles to claim ultimate victory for their side.

Star Wars: Commander features the full array of vehicles, weapons and technology from the Star Wars universe. Players who rally to the Rebellion will call upon iconic heroes such as Han Solo, Chewbacca and Princess Leia to support missions for justice and freedom, while leaders of the Imperial forces will command AT-ATs, TIE fighters and Stormtroopers to gain control of the galaxy.

Star Wars: Commander also offers an original Star Wars storyline set within the Galactic Civil War of Episodes IV – VI, where "commanders" determine if it's the Empire's strength and relentlessness or the Rebellion's heroism and resourcefulness that will win the war.
The game has already drawn comparisons to the incredibly popular Clash of Clans by Supercell, and Star Wars has the upper hand of a rabid fanbase and globally recognized characters.
Try the game
here
.