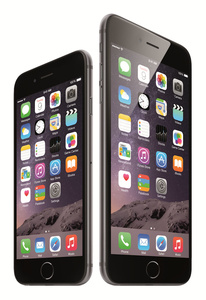 Apple reported their quarterly earnings today, crushing estimates in nearly all categories but especially in revenue and iPhone and Mac sales.
Thanks to the new launch of the iPhone 6 and the large iPhone 6 Plus, Apple had a strong quarter in which Apple CEO Tim Cook was even quoted as saying, "we're selling everything we make."
Overall, revenue increased to $42.12 billion, up 12 percent year-over-year, blowing out expectations of $39.85 billion. Profits were up to $8.5 billion, up 20 percent year-over-year, and also beating expectations. iPhone sales were up 16 percent year-over-year, to 39.3 million, and Macs were another big winner up 21 percent YoY to 5.52 million.
The iPad remained a drag, with sales falling 13 percent to 12.3 million as the tablet market has generally stagnated despite some innovations. iPods continued their long-standing phase out, but still saw 2.64 million in sales, down 24 percent YoY.
Likely the best news for Apple was the iPhone ASP (average selling price), which jumped to $602.92 from $561.06, suggesting a nice amount of sales of the iPhone 6 Plus, which carries a very large price tag that starts at $750.
Let's not forget that Apple also has $155 billion in cash, which by taken by itself would make the company one of the largest twenty tech companies in the world.
Source:
Apple