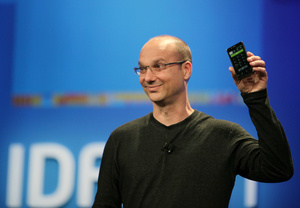 According to new reports, Android co-founder Andy Rubin is preparing to leave Google and his current role as head of the company's robotics division.
Rubin is moving on to a found an incubator for hardware startups and his position will be filled by Google research scientist James Kuffner.
Google CEO Larry Page thanked Rubin for his time with the company, stating
"I want to wish Andy all the best with what's next. With Android he created something truly remarkable-with a billion plus happy users. Thank you."
The high-ranking exec joined the company in 2005 when Google acquired Android. Before Android, Rubin worked with Danger (remember the Sidekick) before it was killed by Microsoft and also at Apple and WebTV (also acquired my Microsoft).
Rubin had been rumored to be leaving the company for the last couple of years, but has always denied doing so.
Source:
WSJ