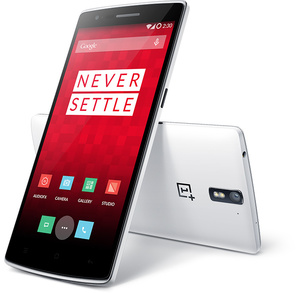 Although the details are unconfirmed, we have some reported tidbits about the upcoming OnePlus 2 smartphone.
The original OnePlus One became famous for packing great specs into a slim body with a cheap price tag, and the sequel is set for launch next year from the Chinese OEM.
Sources speaking to
BI
, say the following are true of the new device:
It will probably be more customizable, since the company is aiming to produce more of its StyleSwap back covers around the time the phone launches, our source said. OnePlus released a Bamboo-style back cover for its One phone, but discontinued it in September due to manufacturing issues. OnePlus sold a few of those covers earlier this month, but since they were so limited you need an invitation to buy them. The company previously said it would release its StyleSwap backs in different materials such as wood, denim, and Kevlar, but we have yet to see any of these launch. There's no guarantee manufacturing issues won't arise this time around, but based on what our source says it sounds like the company is trying to produce more to coincide with the phone's launch.

The next OnePlus phone will likely still be cheaper than other off-contract Android phones. We're hearing that the phone will likely cost less than $500 even if there are significant hardware improvements since OnePlus wants to keep its margins thin.

There will be some "surprises in store when it comes to hardware." We have no idea what this means, but our source wouldn't elaborate any further.
The original OnePlus One sold for $350 unlocked and off-contract, but it was and is hard to get your hands on one, since it was previously available only through invites from others who had purchased one or earned an invite through different promotions. The company now offers "flash sales" of the device every couple of weeks.