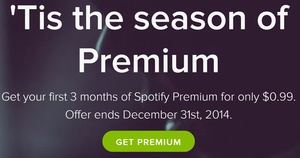 Spotify has gotten into the holiday spirit, discounting their premium package for new customers.
Anyone new to the service can get the Premium subscription for just $0.99 for 3 months, when it then reverts back to the normal $9.99 per month.
A premium account gives you unlimited, ad-free access to the entire Spotify catalog and it also gives you the ability to stream from mobiles and other devices. You can also save songs and playlists for offline listening.
Spotify also offers a free ad-supported service and a cheaper "unlimited" service that gets rid of the ads, but doesn't give you mobile access.
Check out the deal
here
.