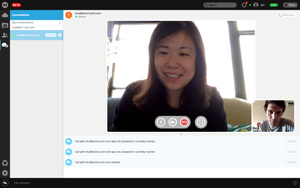 Kim Dotcom has released his latest software, a browser-based encrypted video chat and file sharing service called MegaChat.
The larger-than-life entrepreneur is calling the service a Skype competitor, and it is being rolled out in beta now.
Edward Snowden called out Skype in 2013, claiming that the NSA had its claws deep in the video chat platform, with zero privacy for users. Dotcom is looking to take customers away from Skype by offering end-to-end encryption.
So far, to use the beta you have to login to Mega.nz (with your free or subscription package), add some contacts and start calling. The video chat works in your browser. Text chat and multi-party chats will be added later this year.
We are releasing #MegaChat beta step by step. Starting with video calling today. Text chat & video conferencing will follow soon.

-- Kim Dotcom (@KimDotcom) January 22, 2015