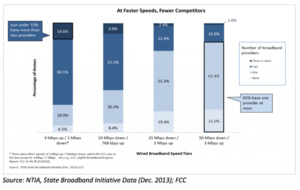 The cable industry apparently does not want to give Americans faster Internet, with the industry's lobbying group opposing the FCC's wishes.
In 2014, the FCC set in motion plans to change the definition of 'broadband' to 25Mbps down and 3Mbps up, meaning ISPs offering slower connections could no longer market their Internet as broadband. The numbers certainly seemed fair, as the U.S. currently has some of the slowest broadband speeds on the planet, with the most expensive prices.
The National Cable & Telecommunications Association (NCTA) opposes this notion:
"25Mbps/3Mbps isn't necessary to meet the legal definition of high-speed, switched, broadband telecommunications capability that enables users to originate and receive high-quality voice, data, graphics, and video telecommunications using any technology,"
the NCTA added.
"Notably, no party provides any justification for adopting an upload speed benchmark of 3Mbps. And the two parties that specifically urge the Commission to adopt a download speed benchmark of 25 Mbps--Netflix and Public Knowledge--both offer examples of applications that go well beyond the 'current' and 'regular' uses that ordinarily inform the Commission's inquiry under Section 706" of the Telecommunications Act."
"Hypothetical use cases showing the need for 25Mbps/3Mbps "dramatically exaggerate the amount of bandwidth needed by the typical broadband user,"
the NCTA concluded.
Currently, the definition of broadband is 4Mbps down and 1Mbps up, but even the most 'typical' family requires more bandwidth, especially if using streaming services on multiple devices. Basically, the cable industry knows they can offer 100Mbps or higher Internet speeds, but they want the average consumer to pay through the roof for it.
Source:
Arstechnica