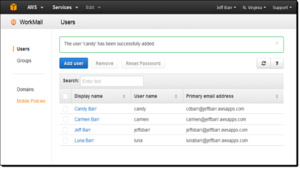 For years, Microsoft's Exchange has been the defacto service for the enterprise world and now Amazon wants to take a bite out of the monopoly.
The e-commerce giant has announced the launch of WorkMail, an enterprise secure email and calendar platform.
Similar to existing services, you can use WorkMail with existing email clients including as far back as Outlook 2007, you can share inboxes, share calendars and add a global, company-wide address book, an important perk for small or larger companies.
On the security end, Amazon took its experience from AWS and is ensuring the service is as secure as possible. The company uses encrypted private keys and will be even let clients choose the geographic region to store their emails. Scared of the NSA spying? Store them elsewhere, no problem.
For pricing, Amazon does not break the mold and will cost $4 per user per month for a 50GB mailbox. Amazon expects WorkMail to launch in the Q2.
Source:
Forbes