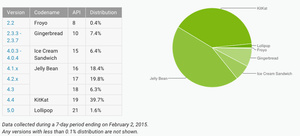 As we have reported for the past few months, Google's latest version of Android is struggling to see adoption.
Into its third month of availability, the operating system is only installed on 1.6 percent of devices, a way lower figure than the install base for Android 2.3 Gingerbread, which was released in 2011.
Android 4.4 KitKat continued to take share, and now stands at 39.7 percent, still slightly below Jelly Bean, which encompasses Android 4.1-4.3.x and has 44.5 percent.
Lollipop remains available for very few devices, most notably Google's own Nexus line. Android 5.0 is easily the search giant's best mobile OS to date, and it is a shame that so few have been able to test it.
Source:
Google