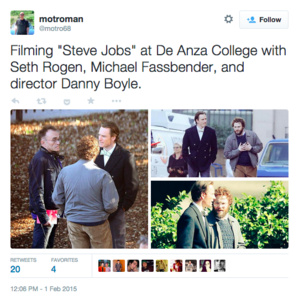 It appears that we finally have some scene pics of the upcoming Apple biopic, which features Michael Fassbender and Seth Rogen as Steve Jobs and Steve Wozniak.
The movie has been filming around the Bay Area for the last few weeks, within walking distance of Apple's current Cupertino headquarters.
Universal is behind the film, which began filming at Jobs' childhood garage, and emails leaked in December implied that the entire film could be shot in just a few weeks although it is unclear if that timeline has changed. Sony Pictures originally owned the script before dropping it in November.
The new film centers around the notable launches of the original Mac, the NeXT cube and the iPod.
Some pics: