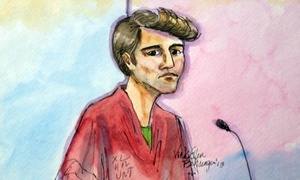 Ross Ulbricht, who went by the name 'Dread Pirate Roberts' online, has been convicted on all counts for running the illegal, anonymous bazaar, the Silk Road.
The Silk Road underground marketplace allowed users to purchase drugs, buy counterfeit products, and trade child pornography while paying with Bitcoin digital currency.
In just 3 hours of deliberations, the jury found Ulbricht guilty on all seven charges which included 'trafficking drugs on the Internet, narcotics-trafficking conspiracy, running a continuing criminal enterprise, computer-hacking conspiracy and money-laundering conspiracy.'
Prosecutors had alleged that Dread Pirate ran Silk Road from 2011 until its raid in 2013, and that over $200 million in Bitcoins were used to purchase illegal merchandise on the site in that time. Ulbricht was also accused of arranging to murder five people who threatened to expose sellers on the Silk Road.
In his defense, Ulbricht claimed that he was set up to take the blame by former Mt. Gox founder Mark Karpeles. The jury didn't buy it. On Ulbricht's computers they found Silk Road maintenance logs, weekly reports, online chat transcripts and over $13 million worth of bitcoins, which were then traced back to Silk Road.
Ulbricht now faces at least 20 years in prison and potentially life if the judge sentences on the higher range. Ulbricht's attorney says he will appeal.
Source:
BBG