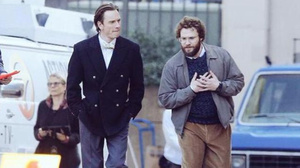 Universal Pictures has confirmed the release date for the upcoming Steve Jobs biopic, just two days after we saw our first leaked scene pics from outside of Cupertino.
The film will debut in theaters on October 9th and will reportedly cover Apple founder Steve Jobs through three major launches; the original Mac, the NeXT, and the iPod. The script is based on Walter Isaacson's hit authorized biography on Jobs.
Directed by Danny Boyle, the movie features Michael Fassbender as Jobs and Seth Rogen as co-founder Steve Wozniak.
Universal acquired the film from Sony Pictures in November after the producers had a falling out with Sony's studio co-chairman. The arguments were infamously leaked when Sony Pictures' emails were released to the web following December's cyber attack on the studio.
Source:
AVC