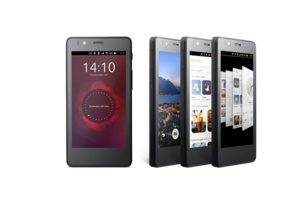 After nearly two years of development, Canonical has confirmed that the first Ubuntu smartphone is scheduled to go on sale in Europe starting next week.
In conjunction with OEM partner BQ, the BQ Aquarius E4.5 Ubuntu Edition (yikes) will sell via flash sale for €169 (near $190 USD). The time and date will be revealed via the BQ and Ubuntu Twitter and Facebook accounts, meaning if you are interested you better start following.
The device has a 4.5-inch display, a quad-core 1.36GHz MediaTek processor, 1GB RAM, dual-SIM suport and a microSD slot to expand on the 8GB of internal storage.
Twitter, eBay, Amazon and Yelp among others will have Ubuntu native apps at launch, and Spotify and Dropbox are supported via third-party apps. Despite the long development time, the first version of Ubuntu is expected to need some polish and refinement.
Source:
TNW