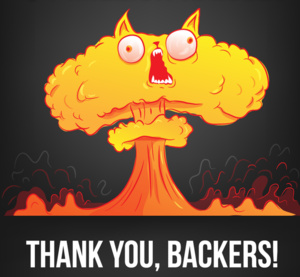 Kickstarter has posted this week that the 'Exploding Kittens' campaign is now the most backed ever, and also the highest funded project in the games category.
The card game was created by Xbox game designers Elan Lee and Shane Small but the heavy hitter is artist Matthew Inman, who illustrates the extremely popular The Oatmeal comics.
When the campaign closed, 219,382 backers had pledged $8,782,571. The amount of backers was double the previous record holder, Reading Rainbow, and the funding was over $180,000 more than now second place Ouya, the Android set-top console.
How does the game that just raised $8 million work? You draw cards from the pile and if you get one that is exploding, you are dead. There are other cards that can be used to defuse the bomb and others that give you special abilities for the game. In all reality, the game is "a highly strategic kitty-powered version of Russian Roulette."
Check out more here:
Exploding Kittens Kickstarter