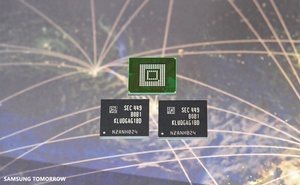 Samsung has announced it has begun mass producing 128GB Universal Flash Storage (UFS) 2.0 embedded memory chips for next-generation smartphones.
"With our mass production of ultra-fast UFS memory of the industry's highest capacity, we are making a significant contribution to enable a more advanced mobile experience for consumers,"
said Jee-ho Baek, Senior Vice President of Memory Marketing, Samsung Electronics.
"In the future, we will increase the proportion of high-capacity memory solutions, in leading the continued growth of the premium memory market."

According to Samsung, UFS
"memory utilizes 'Command Queue,' a technology that accelerates the speed of command execution in SSDs through a serial interface, significantly increasing data processing speeds compared to the 8-bit parallel-interface-based eMMC standard.

As a result, Samsung UFS memory conducts 19,000 input/output operations per second (IOPS) for random reading, which is 2.7 times faster than the most common embedded memory for high-end smartphones today, the eMMC 5.0. It also delivers a sequential read and write performance boost up to SSD levels, in addition to a 50 percent decrease in energy consumption. In addition, the random read speed is 12 times faster than that of a typical high-speed memory card (which runs at 1,500 IOPS), and is expected to greatly improve system performance."
Samsung believes the UFS 2.0 memory will be the standard for high-end flagship devices will eMMC will continue to power the mid and low-end markets.
Source:
Samsung