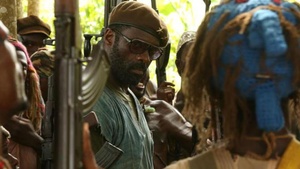 Netflix has acquired the worldwide rights to African war drama 'Beasts of No Nation' as the streaming giant sets on a path to win an Oscar.
The movie, which stars Idris Elba, will be available for a limited theatrical run and then available around the globe on Netflix later the same day.
Netflix paid $11.9 million for the rights, and industry sources say the company will make a strong Oscar push for the film, hence the reason it is going to theaters at all. The Academy of Motion Picture Arts and Sciences rules states
"films that in any version, receive their first public exhibition or distribution in any manner other than as a theatrical motion picture release will not be eligible for Academy Awards in any category."

The film is the story of an African child forced to join a group of soldiers.
Outside of their own exclusive original TV programming, Netflix has made a strong move into feature films. The streaming service will host 4 original Adam Sandler films, a sequel to "Crouching Tiger, Hidden Dragon," 4 original films from comedy and drama writers Jay and Mark Duplass and 'Jodatville,' starring Jamie Dorman of recent Fifty Shades of Grey fame.
Source:
Variety