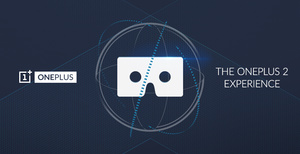 Chinese smartphone startup OnePlus has announced that their long-awaited flagship sequel will be unveiled on July 27th.
The company will livestream the launch in virtual reality starting at 7pm PDT on the 27th, and you can use a custom "cardboard" VR headset like those Google has created.

"A VR launch lets you stand right next to our team and our fans as we unveil our new flagship,"
company co-founder Carl Pei said in the announcement.
"You'll be able to look around as you check out the phone in a new way and maybe even find a few hidden Easter eggs. It's a new way of thinking about a product launch. We aren't talking at you; we are talking with you."

The OnePlus Cardboard VR set will be available soon ahead of the launch:
"We didn't cut any corners on production, and we're definitely losing money on this. But we want to share them with everyone."
Although we don't yet know all the details of the new phone, the company has been blogging bits and pieces. We do know the device will have a custom Snapdragon 810 processor and will also be the first smartphone with a USB-C port. We also know the device will run OnePlus' own OxygenOS operating system, based on Android Lollipop.
Source:
OnePlus