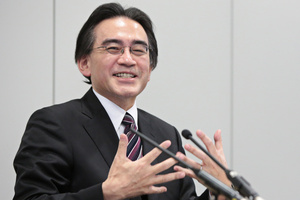 In a sad press release tonight, Nintendo has announced that its CEO and president Satoru Iwata has passed away from a bile duct growth.
He was just 55.
The executive became a director at Nintendo in 2000 and then president in 2002, following Nintendo legend Hiroshi Yamauchi. Previously, he worked as a coder for Nintendo's subsidiary HAL working on games like NES Tournament Golf and Kirby. More recently, he was named CEO of Nintendo America in 2013.
Iwata was instrumental in major hits like the Wii and Nintendo DS/DSi/3DS but more recently the company had run into issues following the flop of the Wii U. Nintendo just announced initiatives to get into mobile and a new console scheduled to launch next year, for which there are still little details.
Despite health issues in the past, his death comes as a serious shock as his ailments were not expected to be terminal and Iwata has been a very visible Nintendo figure over the years, speaking at investor meetings, E3 keynotes and more.
Source:
Nintendo