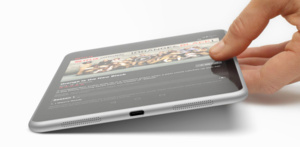 Nokia released a statement earlier this week addressing the rumors of a possible future smartphone. The Finnish company had earlier suggested that it would be interested in creating a smartphone but now the new press release makes it official – or more so.
Ever since Nokia sold the mobile phone business to Microsoft there has been chatter in the media about a possibility for Nokia to re-enter the market. After the unveiling of N1 (pictured), an Android tablet, Nokia as a company has been more involved in the discussion about a possible phone as well.

The statement comes conveniently just after Microsoft has told about layoffs that affect most harshlly towns in Finland. Microsoft, however, still holds the rights for Nokia name in smartphones.

At earliest Nokia could launch a new smartphone under that name in the last quarter of 2016. So there is more than enough time to find a licensing partner – after all Nokia doesn't own the manufacturing plants anymore.