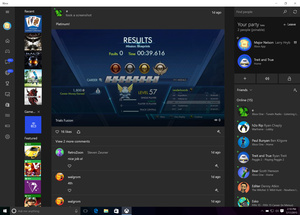 Microsoft has confirmed that an upcoming update for the Xbox One will allow gamers to stream the games via their Windows 10 PCs and tablets.
Reads the post:
"This means you can play the great library of games you've built for Xbox One on your Windows 10 PCs when you're not in front of your console. To get started, on your Xbox One console, go to Settings > Preferences > Allow game streaming to other devices and then install the latest version of the Xbox app on your Windows 10 PC or tablet.

In the Xbox app on Windows 10, select Connect > + Add a device from the menu on the left side of the app, then select your Xbox One console. Attach a wired Xbox 360 or Xbox One controller to your Windows 10 PC or tablet. Then, go to Home > Recently Played to select an Xbox One game and then select Play from Console to start your streaming session. Another way to do this is to simply select your Xbox One console under Home > Game Streaming in the Xbox app to take full control of your Xbox One console from your Windows 10 PC. A notification will appear on your Xbox One that a game streaming session was started by a specific user. During game streaming, the Xbox One console will appear "in use" as though the person streaming was in the room."
Furthermore, the Xbox App on Windows 10 is seeing a significant upgrade
adding a number of new features
.
Windows 10 is set to launch on July 29th.