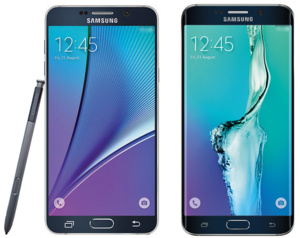 Samsung announced the new Galaxy S6 Edge+ for those who love the dual curved screen of Galaxy S6 Edge but want something in the size of Note series of smartphones.
If Galaxy Note 5 (left) is just a larger version of Galaxy S6 then Galaxy S6 Edge+ (right) is the larger version of Galaxy S6 Edge. The specifications are virtually identical to Galaxy Note 5, just switch the stylus to a curved display. There is not a lot new here – essentially it's a Note 5 sized Galaxy S6 Edge.

Like the Note, Galaxy S6 Edge+ features an octa-core Exynos chip, a 5,7 inch QHD Super AMOLED display, 4 GB of RAM, 16 and 5 megapixel cameras, and a 3000 mAh battery with wireless charging.

The camera has the same image stabilization and live broadcasting features as Note 5. And like the Note 5 it will be available on August 21st, and preorders starting today.