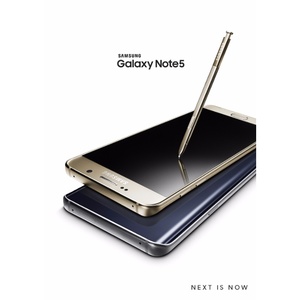 Samsung has today unveiled the fifth generation of Galaxy Note at its Unpacked event in New York. The company's hugely successful phablet line of smartphones continues with the Galaxy Note 5.
Galaxy Note 5 is a direct competitor to Apple's iPhone 6 Plus and the company didn't try to hide it – quite the opposite. Even with a larger screen than on iPhone 6 Plus Galaxy Note 5 has a smaller footprint than Apple's offering.

The new Note borrows a lot from Galaxy S6 in terms of looks. With metal frames and Gorilla glass in the back and the front it is essentially a bigger Galaxy S6. What makes it Note, in addition to the size, is the improved S Pen stylus.

The Galaxy Note 5 features the octa-core Exynos chip you know from S6, a 5,7 inch QHD Super AMOLED display, 16 and 5 megapixel cameras, and a 3000 mAh battery. The camera features a new image stabilization that combines both optical and digital methods for better video stabilization. Also one of the hyped features of the camera is live broadcasting to YouTube.



The phone is waterproof and wireless charging speed has been improved (requires a new charging station). However, there is no microSD card slot and the battery is no longer removable.

Preorders for Galaxy Note 5 start today and the phone becomes available on August 21st. Samsung didn't reveal prices but they are probably going to be similar to previous Note.