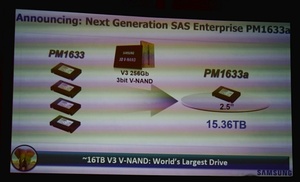 This week at the Flash Memory Summit in California, Samsung has unveiled the "world's largest hard drive," a 16TB 2.5-inch SSD.
The Samsung PM1633a almost doubles the capacity of current hard drives, which max out at 8 to 10TB. The company says its new 256Gbit NAND flash die allows for the massive drive, with Samsung using 48 layers of 3-bits-per-cell (TLC) 3D V-NAND in a single die. By comparison, they were only able to manufacture 36 layers last year.
Ars
explains how 3D NAND works and how revolutionary it is:
"The simplest way of describing 3D NAND is that everything is turned on its side: so instead of having just one layer of memory cells on a single plane, you can now have dozens of layers of cells, all standing up next to each other. (The "V" in Samsung's V-NAND refers to the vertical nature of these cells.) Process-wise, 3D NAND is very complex, but the massive potential density increase makes it worthwhile."
Samsung has not revealed availability or price but you can expect to pay $7500 or so to own the world's largest drive.