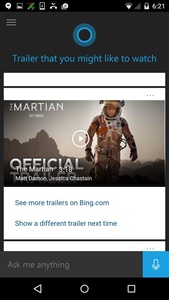 Microsoft has announced today that their digital personal assistant software Cortana is now available in public beta for Android owners.
"If you are currently a Windows 10 user, you already know the benefits of Cortana. The Cortana app on Android is the companion to your Windows 10 PC, extending Cortana's functionality across any device you carry, everywhere you go,"
adds Microsoft.
Just like on the desktop edition, you can set reminders, search the Web, track your important tasks and other important info (like flights) all accessed by voice.
In addition, Microsoft has updated Cortana to be accessed through the home button (in case you didn't want to use Google Now).
Get the software here:
Microsoft