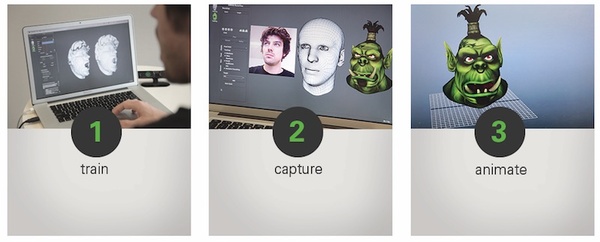 According to some new speculation, Apple may have acquired real-time motion capture studio Faceshift.
Faceshift uses 3D sensors to capture facial expressions, and the company has been working actively with game and animation studios. This year, the company released a software plugin for software like Unity and Maya and Faceshift also confirmed they are working on consumer software like a Skype plugin.
The company launched in 2011 right from the Computer Graphics and Geometry Laboratory at the Swiss Federal Institute of Technology.
On August 14th, a Swiss company registry filing replaced three corporate directors with a mergers and acquisition lawyer, Martin Frey, and Apple has used his firm, Baker & McKenzie, for numerous services in the past. In addition, Faceshift's San Francisco office head Doug Griffin just changed his LinkedIn profile to Considering New Opportunities,"
suggesting he may not be around when the acquisition is final.
Finally, Faceshift has completely removed references to its Faceshift Studio software and has gone uncharacteristically quiet on social media. While still speculation, nearly everything mentioned suggests a company with new management.
The synergies for Apple would be numerous, as the company could add some fun features to FaceTime and could also add facial recognition tech to its iPhones and iPads.
Source:
MacRumors