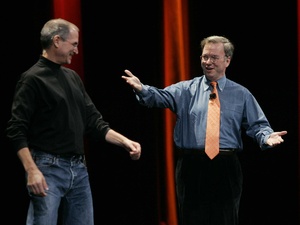 The former Google CEO and now the Executive Chairman of newly found holding company Alphabet Eric Schmidt has written an
op-en for the BBC
about the strides artificial intelligence (AI) has made – and will make. Unlike Apple, Eric Schmidt believes in computer curated music rather than few human individuals.
Schmidt clearly pokes fun at Apple's human curated music on Apple Music,
Recode reports
. The former Google CEO calls human curation "elitist" since it relies on few people making the choices for you based on their own preferences.
Music curation being one of the editorial's main focuses Schmidt says that maybe a decade ago it was reasonable to use human curation but today AI has come so far that it provides better results and could "help you predict who and where the next Adele might be".
What do you think, does human curation to it better for you and/or do AI curated playlists cater the large crowds better?