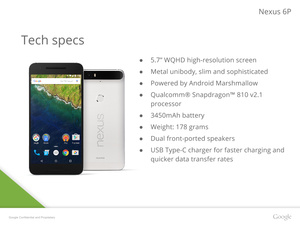 Two days ahead of its official unveiling, we have all the specs and official pictures of the upcoming Google flagship, the Nexus 6P.
The new phone will be the first Nexus device to have an all-metal body, the first with a fingerprint scanner and the first with USB-C connectors.
As expected, the screen is a 5.7-inch QHD with Gorilla Glass 4, and the smartphone is powered by a Qualcomm Snapdragon 810 v2.1 processor and 3GB RAM. The phone has a massive 3450mAh battery, and will run on Android Marshmallow, which has built-in battery efficiency tech.
On the back of the phone is the fingerprint scanner, in a similar position to how LG has their fingerprint scanners compared to where Samsung and Apple have theirs (up front).
The cameras will also get a nice upgrade, with the rear camera at 12.3MP and the front camera at 8MP. The rear camera has an F-stop rating of 2.0 and the camera's sensor uses 1.55 μM pixels allowing for much more light to be taken in - great for low light situations.
You can take a look at the full list of specs and features here:
Imgur