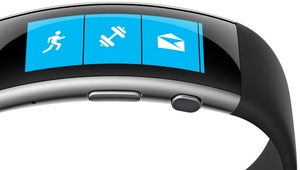 The fitness tracker is now smarter, sleeker and slimmer.
Microsoft announced the second-generation Microsoft Band fitness tracker this week, a wearable with a curved, touchscreen OLED display that also includes Cortana integration.
The tracker offers GPS, heart rate tracking, calorie tracking, sleep tracking, has a barometer for hiking/stairs, and it will even guide you through workouts. Cortana will yell at you if you forget to workout, as well.
Additionally, the Band records serious athletic metrics like VO2 max, has shot detection for golfers and supports popular apps like Uber, RunKeeper, Starbucks, Subway and Twitter which makes it pretty versatile.
Band works with iOS, Android and Windows Phone and will cost $249, more expensive than last year's model, which is generally considered a flop.
Source:
Microsoft