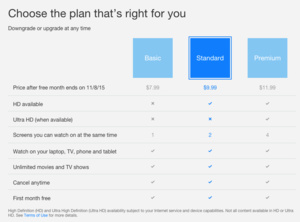 Netflix will be raising the price of their standard streaming subscription plan from the current $8.99 to $9.99 as the company continues to add original content.
The change is effective in the U.S., Canada and some countries in Latin America for new customers and will be effective in a year for existing customers.
Netflix offers a few tiers but the standard plan is the most popular since it allows two simultaneous HD streams at a time.
"To continue adding more TV shows and movies including many Netflix original titles, we are modestly raising the price for some new members in the U.S., Canada and Latin America. As a thank you to existing Netflix members -- who aren't already benefiting from a previous price guarantee -- we will maintain their current price for a year,"
said the company.
The move is unsurprising given the fact that Europe already saw a similar price increase two months ago from €8.99 to €9.99.
Source:
Netflix