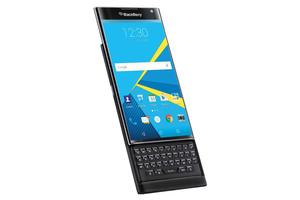 BlackBerry CEO John Chen has said this week that the company needs to sell 5 million smartphones a year to have their handset division be profitable, and if they can't hit that target the smartphone maker may have to stop building hardware altogether.
Last quarter, BlackBerry sold 800,000 units but that number is expected to jump as the company recently announced the Priv, their first phone to run on Android rather than BlackBerry's own software. The Priv has a sliding touchscreen that reveals a full QWERTY keyboard and also has security tech built in that the company says is better than Samsung's leading Knox suite.
Chen did note that BlackBerry 10 is not dead, but that their only customers are governments and corporations that do not upgrade quickly so we may not see BB10 devices for another year or two.
Perhaps most importantly for BlackBerry is the fact that carriers will actually have the Priv in stores, a nice change from past years where it was almost impossible to find a BalckBerry device even if you (for some reason) wanted one.
Source:
Verge