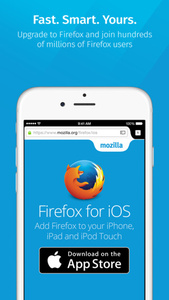 Mozilla has taken its Firefox for iOS browser out of beta, making it available to all.
The company launched a public beta of the software in September and has been fixing bugs based off feedback ever since.
While Firefox is popular for desktop (by most accounts it is the #3 browser on the planet), it has some major competition in the mobile space. Apple pre-installs Safari on their iOS devices, Google's Chrome is incredibly popular, and other competitors like Opera also have market share due to interesting features like data compression and faster speeds.
If you are a Firefox desktop user, you can bring over all your bookmarks, history, saved tabs and more.
You must have iOS 8.2 or newer installed to use the app, which is
available here
.