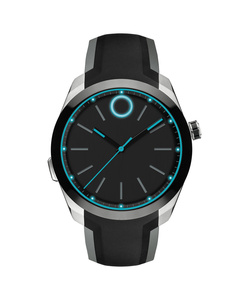 Swiss watchmaker Movado has unveiled new smartwatches today, both of which have classic Movado style and some basic smart features.
What's interesting about the devices is that they both have analog displays (meaning no touchscreens), and can connect via Bluetooth to Android 4.4 or newer or iOS 8 or newer devices.
The Movado Museum Sport Motion "is a fine Swiss watch of simple, modern design. Inside it uses patented MotionX® smartwatch technology to track your daily steps and sleep patterns, and deliver "get active" alerts. Movado Motion is easy to set-up and sync with your paired smartphone or tablet, Android 4.4.3 or later, or iOS 8 or later, when you download and install the MotionX-365 app. It features automatic local time/date sync, and the battery has a 2-year life and never needs recharging."
Movado's BOLD Motion "has Bluetooth connectivity, engineered by HP, Android and iOS compatible, 44 mm stainless steel case with black PVD-finished bezel, round black dial with teal LED indicators; haptic phone call, appointment, email, text message, social media alerts; recharger for smart module; black silicone strap with stainless steel buckle."
From a design standpoint, this author is a fan of Movado and likes these watches, but it's hard to really see a huge need for the "smart" features of the watches.
Check them out
here
and
here
.