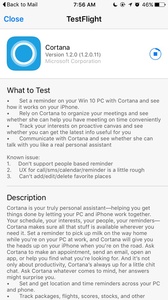 Microsoft has begun rolling out the beta version of their Cortana digital assistant to iOS device owners.
A few lucky users who signed up to learn more about the app have received emails to test out the service.

Cortana is Microsoft's version of Apple's Siri and Google's Google Now, although there are plenty of users out there that find Cortana to be far superior to its rivals. The voice-activated digital assistant can help you with your alarms, calendar, texting, phone calls and tracking your shipments, your favorite team's scores, your flights, and more.

Because the app is being distributed through TestFlight, there can be a maximum of just 2000 testers at any given time but if the beta is available now, there is hope the app could go live for all in a few months.