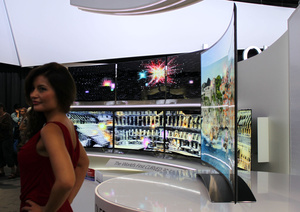 While OLED displays are still in the minority and LCD is far from obsolete, new press release from LG reveals that the surge into new display technology is well on its way.
LG tells us that it has decided to invest 1.84 trillion Korean won (over $1.5 billion) to develop and manufacture OLED displays. The company says that the displays will come in different sizes from smartwatches and automotive displays to TVs.
LG doesn't even mention smartphones but as
BGR notes
there's a chance that such huge investments come in the wake of an equally huge deal with the like of Apple. Rumors have it that Apple will rely on LCD panels on its next iPhone models but this manufacturing plant, called the P10, wouldn't even be ready for the iPhone 7.
The manufacturing of the next generation OLED panels start in the first half of 2018 which would be in time for the iPhone 8 and its possible siblings. Currently Apple's only OLED panels are in the Apple Watch and they're manufactured by LG.
LG's biggest competitor in the OLED space is Samsung, which not only produces them but utilizes the panels in most of its flagship phones.