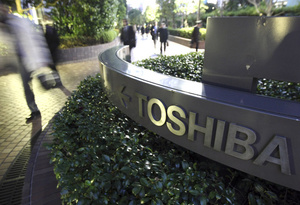 Toshiba has said this morning that the company will report its largest net loss, ever, as it works on restructuring its unprofitable businesses.
The company will lay off 7800 employees, mainly from their consumer electronics division. The new cuts add to an already announced 2200, a total of 5 percent of the company's workforce.
Because layoffs in Japan are extremely expensive given worker's legal protections, the company says the rough quarter will culminate with a 550 billion yen ($4.5 billion USD) loss for the fiscal year ended March 31st.

"As a manager, I feel the responsibility deeply,"
said new president Masashi Muromachi.
"My biggest task now is to ensure that we start recovering next year."
Muromachi took over as president after a crippling accounting scandal was discovered that threatened to ruin the company and led to the resignation of the CEO and half of the board of directors.
Source:
GlobeandMail