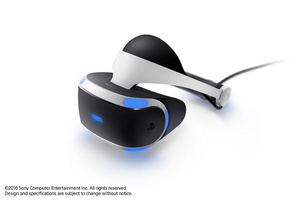 Yesterday, Sony took that stage at GDC to announce the consumer version of their highly-anticipated PlayStation VR headset.
The PSVR is scheduled to launch in October for $399, pricing it under rival devices like the HTC Vive and Oculus Rift, both of which require PCs with high-end specs. The PSVR will also require the PlayStation Camera to work, so that will set you back another $50 or so. If you are thinking of the PSVR, you likely have a PS4 in your home, but you will need the console, as well, if you don't have it.
Says Sony boss Andrew House:
"Today more than 230 developers are building content for PlayStation VR, from smaller independent teams to larger studios at the industry's top publishers. We expect to have more than 50 games available from launch in October 2016 until the end of the year. Of course, the full promise of PlayStation VR will continue to grow over time as talented developers create new experiences and new genres that wouldn't be possible outside of VR. The future looks bright indeed.



Additionally, The Playroom VR, from our very own Japan Studio, will be available as a free download from PlayStation Store for all PS VR owners at launch. The Playroom VR will include six games that can be enjoyed with friends and family, demonstrating why we believe VR can also be an impactful experience when it's shared."
Sony also noted a nice spec for the VR headset - a 120hz refresh rate for the 5.7-inch 1090p OLED screen.
Source:
Sony