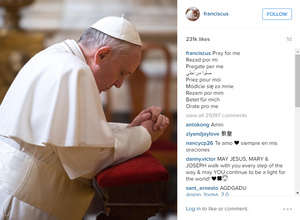 Pope Francis has joined Instagram, marking the second time the Pope has made his presence felt via social media.
So far, the Pontifex has posted four images/videos with the most popular seeing 230,000 likes.
In 2014, the Pope joined Twitter and currently has 9 million followers. In less than a day on Instagram he already has 1.3 million followers, so it's clear that many are looking to get their religion, visually.
If you use the platform you can check out the page here:
Instagram