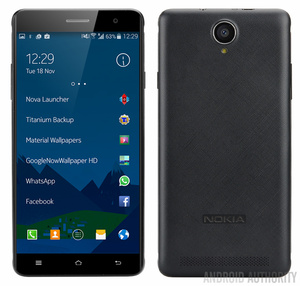 According to new "trusted" sources,
Android Authority
says there is an Android-powered Nokia smartphone in the works.
Known as the Nokia A1 (as of now), the device is expected to ship in the summer.

Unlike past Nokia devices, which were usually colorful and round, the new device has a dark, generic design including a plastic back.

The device appears to be running Android 6.x, with Nokia's Z Launcher overlay to enhance. The specs are still unclear, but the source claims the A1 features a 5.5-inch, 1080p display and a Qualcomm Snapdragon 652. Those specs would place the device squarely in the mid-range, where Nokia used to live and may again soon.