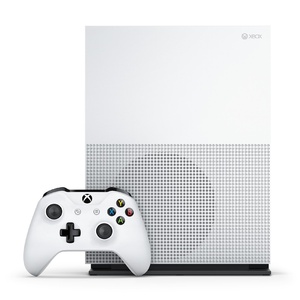 As leaked yesterday, Microsoft has confirmed and launched the new slimmed down Xbox One S console, available for pre-order now.
The new console is 40 percent smaller than the original Xbox One, and now comes in the "robot white" color scheme. On the outside, the Xbox One S has lost the gigantic power brick of its predecessor and will come with the option to buy a vertical stand.
On the inside, Microsoft has upgraded the raw processing power of the console, adding 4K video support (including 4K Ultra HD Blu-rays), HDR support for gaming and video and a built-in IR blaster. Aesthetically, the USB ports have been moved to a more convinient spot up front, along with the controller pairing button.

"The Xbox One S for us was a realization that first, we want to make a smaller Xbox, but there was also some capability that we saw growing out in the market around HDR and 4K video,"
Xbox head Phil Spencer noted.
"So we said, if we're going to do an upgrade to our console, let's go ahead and embrace some of the technologies that are coming and make those part of our core SKU."
In addition, the console comes with a modified controller that has textured grips and the addition of Bluetooth.
Launching in August, the 500GB edition will sell for $299, 1TB for $349 and 2TB for $399. Amazon has all three editions
available for pre-order now
.