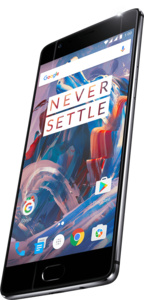 The small Chinese smartphone maker OnePlus took the world by storm two years ago by releasing a super cheap flagship smartphone. They called it the flagship killer, and it indeed challenged the best Android smartphones without big drawbacks and with a tiny price tag. Now the company has revealed this years model.
As expected it is called the OnePlus 3. The third generation is not quite as cheap as the first, or even the second model, but it certainly is worth the flagship killer moniker. Comparing it to Samsung's number one smartphone, the Galaxy S7, OnePlus 3 only loses in screen resolution. Some would say not going QHD was a smart move from OnePlus too.

OnePlus 3 features a super thing 7,4 mm (0.29 in) thin, single-piece aluminium body which holds a 3000 milliamp battery. Performance is ensured by Snapdragon 820 and six gigs of RAM. The sixteen megapixel f2.0 camera features optical image stabilization and phase detection auto focus.

Everything seems to be in order for a good top end smartphone but it's the price what makes the deal sweet. You can buy one unlocked for only $399.



OnePlus has however revealed that the 5,5 inch smartphone will be the only option for now, and there's only the one 64 GB version. The company has discontinued the X model that was introduced last year as the cheaper and smaller option.