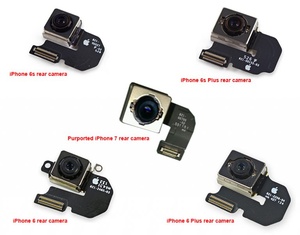 Largely leaked iPhone 7 has been seen in pictures and even modelled into dummy units. From outside it looks really close to its predecessor only change really being the camera, especially in the bigger version.
Of course the larger, likely to be named iPhone 7 Plus, has been rumored to have a dual camera system which is something completely different from previous iPhones. However, now new leak reveals that there are some major changes to the single camera in the smaller iPhone 7's back as well.
According to pictures released by
Nowhereelse.fr
iPhone 7 will be getting OIS or optical image stabilization. This means that feature found already in the larger version of the previous year's model is coming finally to the 4,7 inch iPhone 7.
It must also be noted that the camera seems to be a bit larger from the outside but it's hard to tell if that is the case for the module itself. The pictures do show indication of OIS, as Nowhereelse points out, but other changed cannot be confirmed from it.