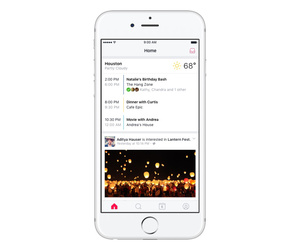 Facebook has introduced "Events from Facebook" today, a new app "designed for event seekers who are passionate about keeping up with nearby events and finding things to do with their friends."
The social media giant explained how the new service works: "When you open Events, you can quickly catch up on new events your friends are interested in, recently-announced events by the Pages you like, and updates from events you're already connected to.
If you're looking for something to do this weekend or even right now, you can easily browse event recommendations based on time, location and your interests. Explore events happening where you are or in places you like to go using the interactive map. You can also search for events in any city if you're planning ahead for a trip."
Finally, the service will track all your events in a calendar letting you easily know when you're busy. You can even add your Google and other calendar events to the service.
For now, Events is available for iOS users with Android users getting the app next month.
Source:
Facebook