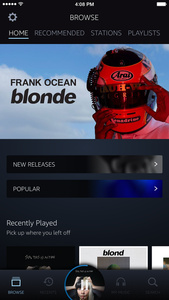 Amazon's oft-rumored Music Unlimited service has gone live, available to Prime members for $79 per year, or $7.99 per month if you choose that route.
The on-demand streaming service will rival Spotify, Apple Music, Google Music and others, including tens of millions of tracks from the majors and "hundreds of indies." The service also has curated playlists, recommendation engines, lyric integration, offline downloading and apps for iOS, Amazon, Android, PC and Sonos.

As an all-in for their ecosystem, if you own the voice-powered Echo, you can get the service for $3.99 a month, a steal compared to rivals.

In addition, owners of one of Amazon's voice-controlled Echo devices will be able to get the service for just $3.99 per month.