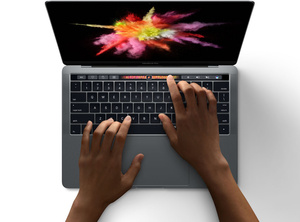 Apple unveiled this week the next generation MacBook Pro. As you might imagine it is more smaller, thinner, lighter and more powerful than ever before. It also has one completely new feature, the Touch Bar.
Apple celebrated the 25th anniversary of their first notebook by releasing a new MacBook. The new MacBook Pro comes in 13-inch and 15-inch variants with lots of customizability as expected. One thing that separates the cheapest 13-inch version from the other is that there is no Touch Bar in it.
But what is Touch Bar? The Apple's new groundbreaking feature is a touch screen above the updated keyboard with new flatter butterfly mechanism keys. The Touch Bar replaces the old function keys – which are still available on the Touch Bar by pressing the function button – and shows different functionality depending on the application and even inside the applications.
For example, in Safari the Touch Bar can show bookmarks, open tabs or quick links to most used features. In Mail app the Touch Bar shows for example CC suggestions or autocomplete depending what you are doing. The software developers can obviously use Touch Bar in their own way to make the application more intuitive.
On the right edge of the Touch Bar there's a expandable quick links list to most used system settings, such as brightness and volume. You can customize what to show straight from the system settings from where you drop them to the Touch Bar. On the right side of the Touch Bar you can find Touch ID which makes it debut on MacBook as well allowing easier online payment and login.
The 13-inch MacBook Pro is available starting at $1499 with old function buttons, and starting $1799 with TouchBar. The 15-inch MacBook Pro starts at $2399 and features always the Touch Bar.