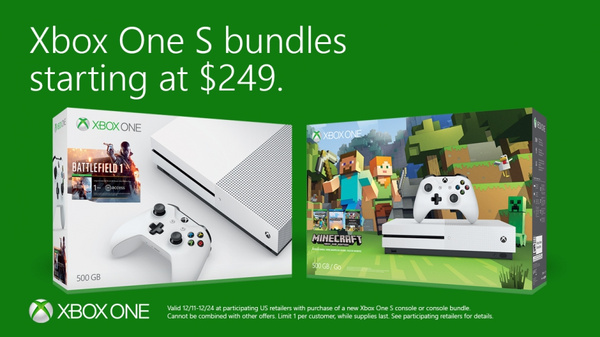 You can get an Xbox One S bundle at the moment for $50 less thanks to a holiday season offer from Microsoft.
The offer is valid from now until Saturday, December 24, at all participating retailers in the United States. With the offer, you could pick up the Xbox One S Battlefield 1 Bundle for $249, which includes a 500GB HDD, a full download of Battlefield 1 and a month of EA Access.

Alternatively you could get the Xbox One S Minecraft Favorites Bundle for the same price, which also features a 500GB HDD, full game download of Minecraft for Xbox One and Windows 10, and 13 community-favorite content packs.

If you anticipate the need for more storage space, you can get the Xbox One S Gears of War 4 Bundle which packs a 1TB HDD and a full game download of Gears of War 4 for Xbox One and Windows 10, for $299.

Participating outlets include Amazon, Target, GameStop, Best Buy, Walmart.com and Microsoft Store.