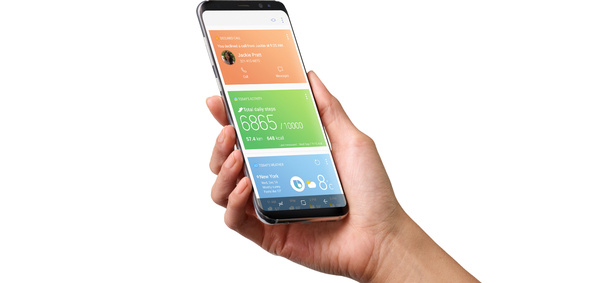 In such a beautifully crafted device that has industry-leading specs it's not easy to find faults, but there certainly are some. As always has been the case, Samsung is not necessarily a good software company, despite it excels in industrial design and can stand against pretty much any company toe to toe specifications-wise.
The newest phone definitely showcases the company's technological prowess as well as industrial design especially with exclusive edge displays. However, the UI is again pretty ugly, and comes with apps that are not really needed. One of these apps that are pretty much carbon copies of Google's offerings, already found on the Android device as well obviously, is the new assistant software Bixby.
Even though Bixby is pretty much exactly what the Google Assistant offers, it's not the software implementation that makes it frustrating for us customers – we can always choose not to use the app. It is the fact that Samsung has added a completely new button on the side of the device that opens up Bixby.
Well, you might as, why would an additional functionality be so bad? First of all, adding more buttons is not necessarily a good thing. Secondly the button takes to a service that is currently crippled and seems to not be as good as Google Assistant.
Even this might be acceptable, even a good thing, if you could program the button to do something else. Samsung does not include this option in their UI but some people have hacked the option to Android phones. Unfortunately Samsung has just made the worst decision for its new flagship.
According to XDA forums
, Samsung has completely disabled all the user customizations of this button and it can now definitely be used only for Bixby. One might see the positives in this and hope that Bixby will come around and actually be good, but this is hardly any consolation to people who do not use their phone in any Bixby supported language.
There is some hope still, though, some people with review units have said that the remapping hasn't been disabled. Also rumors have it that the remapping option might be available depending on the region or carrier. Obviously for non-English speaking world this would be the most important.
We'll just have to wait and see how Samsung deals with this.