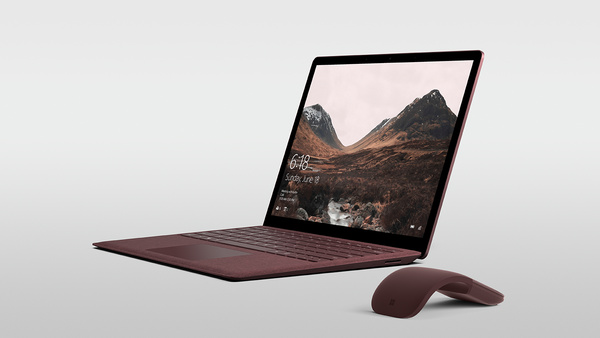 Microsoft has today announced a new Surface product, which is the company's first traditional laptop. The device, aptly named Surface Laptop, is indeed not a hybrid like the Surface Book, and is more reasonably priced.
According to Microsoft, the 13.5 inch 3:2 display on Surface Laptop is the ever thinnest in a laptop. This and the fact that everything inside the device has been packed super tight means that at .57" and 2.76 lbs it is both thinner and lighter than even the MacBook Air.
The display is said to produce 3.4 million pixels so its resolution (2256 x 1504) is around the traditional QHD but with 3:2 aspect ratio differentiates itself from both the widescreen 16:9 or 16:9 (MacBook Air) laptops as well as the old school 4:3 displays.
According to Microsoft's own Panos Panay the Surface Laptop is also more powerful than the competition. With Intel's Core i5 and i7 processors Panay claims it is up to 50 percent faster than MacBook Air. With all that power the promised 14.5 hour battery life (with video playback) seems like a good deal, especially considering the weight.
The keyboard is surrounded by alcantara fabric that we first saw on Surface Pro 4 keyboard, and Microsoft has managed to retain a respectable 1.5 mm press depth.
The computer comes equipped with Windows 10 S, which is Microsoft's new operating system, essentially a lite version, that allows app installs only from the Windows Store. If you want to install programs outside the app store, you need to invest in an upgrade to Windows 10 Pro.
The laptop has one USB 3.0 port, a 3.5 mm headphone jack, mini DisplayPort connection as well as SurfaceConnection for further connectivity.
Microsoft also unveiled the new Surface Arc Mouse which is a new version of the Microsoft Arc Touch mouse from a few years back.
Surface Laptop will come in four colors (platinum, burgundy, cobalt blue, and graphite gold) next month. The shipments will begin on June 15th and the prices start at $999 for the Core i5/4GB/128GB version.