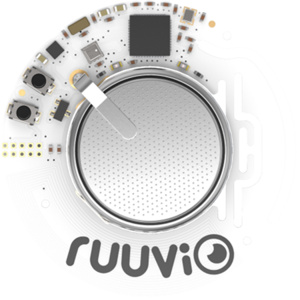 A Finnish startup by the name Ruuvi introduced its Bluetooth beacon project to the internet in a
Kickstarter campaign last summer
. In mere hours the campaign was funded and in the end it crushed its goal with pre-orders exceeding $170 000.
Now the company has officially released the product, which according to their press release came quicker than expected. Since yesterday's launch RuuviTag has been selling like hotcakes. The founder of Ruuvi, Lauri Jämsä, told us that the demand has been so high that the supply has almost been depleted.
In the upcoming batches the company aims more and more in the B2B markets where orders might exceed a thousand units.
RuuviTag is a small Bluetooth 4.2 beacon that has radio and NFC connectivity as well as a multitude of sensors that can measure temperature, relative air humidity, air pressure, and acceleration. It can be used as a Eddystone or iBeacon, and the RuuviLab community has already created a variety of applications, including the likes of portable weather station and vehicle locator. Of course because it's open source platform anyone can join in.
You can buy RuuviTag's from the
company's website
where they sell for 69 euros (approx. $79) per 3 beacons plus shipping.